We are the grower & exporter of various types of plants both indoor and outdoor plants such as Euphorbia milii (Crown of thorns), Aglaonema (Chinese evergreen), Caladium, Sanseverias (snake plants), Ficus tree, Adenium (Desert rose), Euphorbia Lactea(Coral cactus), Croton(Codiaeum variegatum), Zamioculcus Zamiifolia (ZZ plants) and more other plants. We have long time experiences of growing & exporting in this field for over 30 years.

We are a leader to supply a wide of differences varieties with the largest quantities of many plants specially for Euphorbia Milii and Aglaonema plants. We are always offers only the best qualities of plants with the competitive pricing to the industry for the wholesale price and all who love about plants. We can exporting worldwide to all the destination airports by Air freight and Sea freight container loaded. We're always provided and supply only the best qualities of our products with the best services to you.

We are sincerely welcome a customers from all over the world and hopefully to hear from you soon.

We have a wide varieties of other tropical plants to supply you as we had long experiences of packing and exporting these other plants to many countries over the word. Here are other popular plants that we would like to recommend you. There are Anthuriums, Bougainvillea, Fruit plants, Murraya Paniculata Dwarf, Ferns, Plumeria, Sanseveria, Caladium, Orchids plants and Hoya, etc.,

We are always offers only high qualities with a large quantities of these plants and exporting to any destination by Air freight and/or Sea freight. Please Email to us (landp.farm@gmail.com) for more information and require us for the catalogs. Thank you.

We have the new varieties of plants waiting to offer you. Whether it is a new hybrids of Euphorbia Milii, Aglaonema and the other plants of new species and more. This is just a sample of some types of plants that we have been a new breed. All these plants are available on stock. You can checking on our product categories or if you would like to have more details, please contact us by email to : landp.farm@gmail.com Thank you.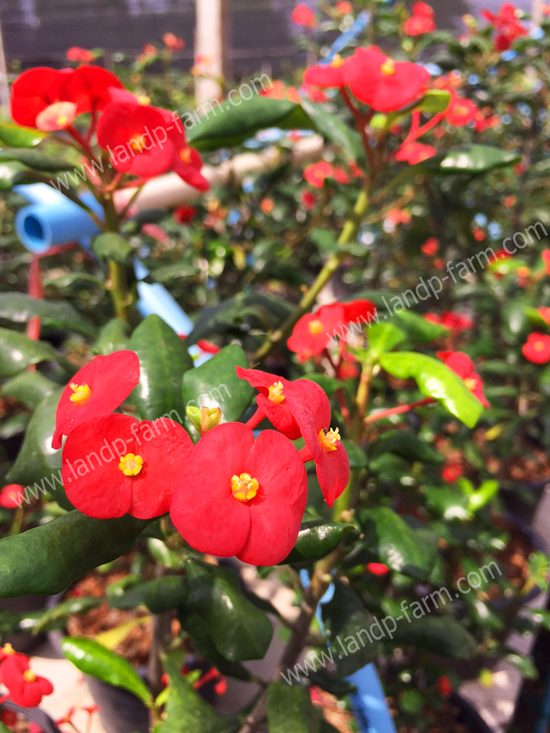 Euphorbia Geroldii's flowers
Euphorbia Geroldii is the rare plants. The hybrids of Euphorbia species that is without thorns. The shaped of leaves and colorful blossoms of the weird. Deep red of the flowers, easy to blooms, very beautiful and eye-catching. This plant is fast growing and easy to-grow. It doesn't have to take care of a lot, copious of flowering for all year round, cultivate more appropriate to use as landscape plants or for pot plants. For more details, please contact us to : landp.farm@gmail.com